What is rat trap bond
Rat trap bond is a brick masonry method of wall construction, in which bricks are placed in vertical position instead of conventional horizontal position and thus creating a cavity (hollow space) within the wall. Architect Laurie Baker introduced it in Kerala in the 1970s and used it extensively for its lower construction cost, reduced material requirement and better thermal efficiency than conventional masonry wall, without compromising strength of the wall.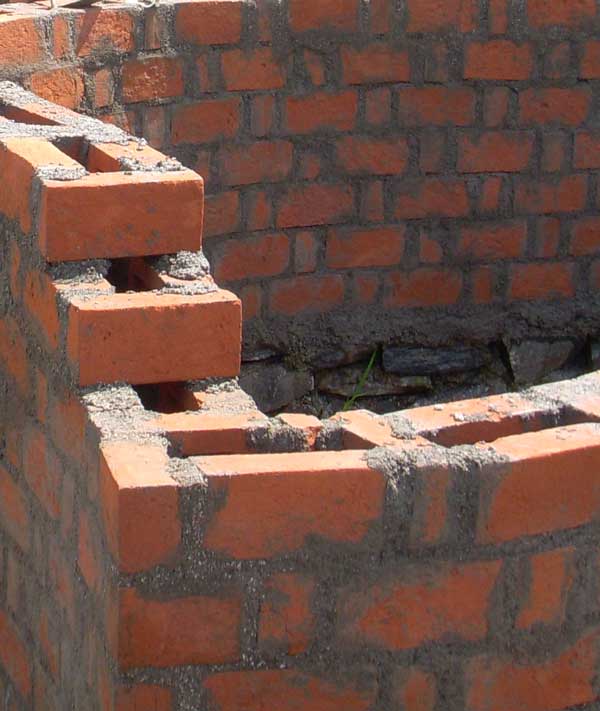 Constructing brick wall using rat trap bond
The bricks are placed in vertical position, so that 110 mm face is seen from front elevation, instead of the 75mm face (considering brick of standard size 230 X 110 X 75 mm). Since width of wall remains 230mm, an internal cavity is created. This is where approximately 30% Material (brick and mortar) is saved and thus overall construction cost is reduced. Cavity provides effective thermal and sound insulation. This makes rat trap bond energy and cost efficient building technology.
Advantages of using rat trap bond
Requires approximately 25% less bricks and 40% less mortar than traditional masonry.
Reduced material requirement results in considerable cost saving.
Strength of wall is not compromised, it remains same as traditional masonry wall.
Cavity induced in wall provides better thermal insulation, resulting in cooler interiors during summer and warmer interiors during winter.
All vertical and horizontal reinforced bands, lintels (for standard size openings), electrical conduits are hidden inside wall, resulting in better aesthetic appearance without plastering (exposed brickwork).
Things to consider while using rat trap bond
Bricks should be of good quality with consistent size and straight edges First layer (bottom) and last layer (top) of the wall should be solid (without cavity).
Layer at sill and lintel levels of opening and sides of opening should be solid (without cavity) for fixing frames.
Reinforcement bars can be put in vertical cavities at corners and around openings to improve earthquake resistance. Reinforcement bars can be put in horizontally to make lintels and to improve earthquake resistance.
Electrical conduits and plumbing pipes, with prior planning, can be put inside cavity for better aesthetics.